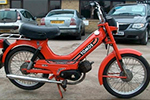 Born 12:49am

Simon started his career as a photographers assistant and went on to work for some of the biggest photographers in London on global brands such as Nike, Benson and Hedges, Audi, Vauxhall, Silk Cut, Smirnoff etc. He also assisted Annie Leibovitz when she shot over in the UK.

After winning the prestigious AOP student awards, the time was right to go out there as a photographer. He quickly got snapped up by AMV for his first major advertising campaign, winning them a D&AD and a Campaign Press & Poster award for Thomas Cook. Subsequently he has worked for some of the biggest agencies on campaigns for Renault, Talk Talk, Mini/BMW, Transport for London, O2 and British Telecom. He continued to win awards and in 2006 won VCCP their first Creative award - Campaign Press and Poster for their O2 'Treats' campaign.

Filming Blazer with Gregory he decided that telling a story with a moving narrative was his new calling. Now puts all his photography experience into crafting the perfect scene to tell a story.